Thanks to the wonderful people at Google, I can no longer offer email or RSS subscriptions through Feedburner! According to Neville Hobson, The End for Feedburner arrives October 20, 2012. For all of you good people who enjoy receiving updates from the blog and wish to continue receiving updates, please click on this post, look to your left, and either resubscribe using WordPress's email subscription program, or click on "RSS – Posts" to add the site feed back to your Google Reader or Bloglines, or your preferred method for subscribing to blogs.
You may also receive updates via the Facebook page, but be warned that Facebook's new algorithms force those who don't "like" or comment new posts to click "Show in News Feed" in order to see each post (like so):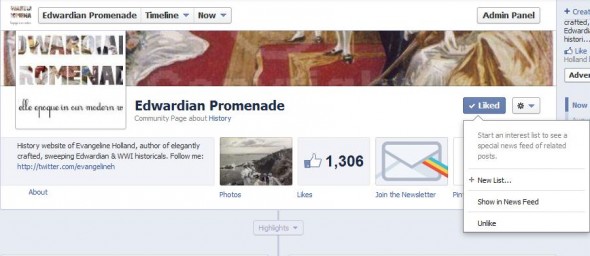 If you're more technically inclined, you can subscribe to Edwardian Promenade on Bloglovin, though you will not see the full posts in that feed.
I apologize for needing to give everyone the runaround, but, alas alack alas, I am at the mercy of free web services, which can giveth and taketh away. I'd also advise everyone to check their subscriptions to all of their favorite blogs as I'm sure a great majority of bloggers also use Feedburner to deliver content to their readers. Any questions or concerns, email me at evangeline [at] edwardianpromenade [dot] com! Thanks so much and thanks to Tasha for alerting me to these new developments!
Comments