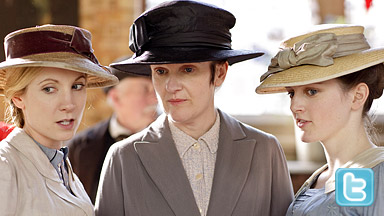 Revel in the scandals, secrets and dramas of Downton Abbey along with your fellow Masterpiece fans. Celebrate Downton Abbey and the start of Masterpiece's 40th season during a live Twitter event on Sunday, January 9, 2011, during the national broadcast premiere of Downton Abbey.
You're welcomed whenever you're watching, but from 9-10:30pm Eastern time, PBS and Masterpiece insiders — as well as moderators from Austenprose and Edwardian Promenade — will be tweeting too.
Tag your posts with the hashtag #DowntonPBS and then visit us on TweetGrid, or use your own favorite aggregator.
WHAT: PBS and Masterpiece are hosting a live Twitter event (#DowntonPBS)
WHEN: Sunday, January 9, 2011, 9-10:30pm Eastern time
WHERE: Join us using our custom TweetGrid (Use hashtag #DowntonPBS).
TOPICS: Downton Abbey, Masterpiece classic
WHO: @pbs; @masterpiecepbs; Evangeline Holland of Edwardian Promenade (@edwardian_era); Laurel Ann Nattress of Austenprose (@Austenprose); Cheryl LeBrun of Enchanted Serenity of Period films (@charleybrown77); Vic of Jane Austen's World (@janeaustenworld) and YOU!
RSVP: Please follow and be followed (on Twitter, of course!) by other #DowntonPBS tweeters
Other Places to Visit Before the Premiere:
Comments