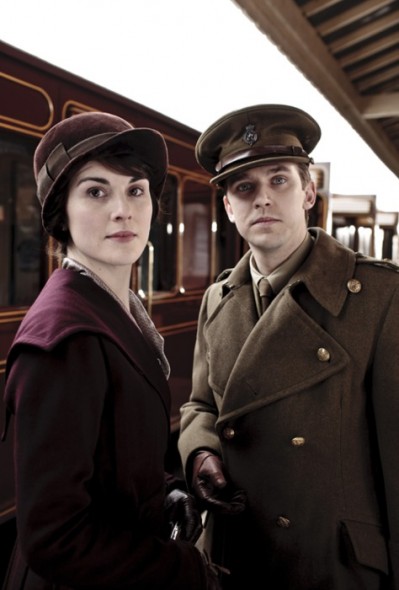 Today marks the final countdown to Downton Abbey, which will air on exactly this day next week! To prepare for the second season, I point you to my post on Heroes and Heartbreakers, where I provide the historical context of Downton during wartime (I wrote this before S2 aired, so my observations are from that perspective).
If you are on Twitter, don't forget to follow and participate in the party by using the #DowntonPBS hashtag, and check back at EP after the West Coast airing and on Monday for discussions and recaps, and the historical background for each episode! For more information (and a bit of spoilers, so beware!), visit the page on this site devoted to Downton Abbey news!
Schedule
Episode 1 – January 8, 2012 (8:59 – 11:00 PM)
Two years into World War I, Downton Abbey is in turmoil, as Matthew and other young men go to war — or avoid it. The women also pitch in, and many couples see their romantic dreams dashed.
Episode 2 – January 15, 2012 (9:00 – 10:00 PM)
Downton is turned into a convalescent home with Thomas in charge. Meanwhile, Lavinia and Sir Richard's secret comes out, Anna tracks down Bates and Branson seizes his chance to strike a blow for Ireland.
Episode 3 – January 22, 2012 (9:00 – 10:00 PM)
Isobel and Cora lock horns over control of Downton's medical role. Mrs. Bird starts a soup kitchen. And Matthew and William embark on a perilous patrol behind German lines.
Episode 4 – January 29, 2012 (9:00 – 10:00 PM)
In the climactic battle of the war, Matthew and William go over the top to an uncertain fate. Vera plays a cruel endgame with Bates and Anna. And Daisy faces the severest test of her life.
Episode 5 – February 5, 2012 (9:00 – 10:00 PM)
Lord Grantham receives some terrible news from the front line which will impact on everyone at Downton. It looks as though the future of the entire family could be under threat as the greedy Vera Bates threatens to expose all the secrets that she knows about the Crawley family.
Episode 6 – February 12, 2012 (9:00 – 11:00 PM)
The Spanish flu strikes Downton, disrupting one match, hastening another and transforming the fortunes of all. Mary, Sybil and Robert each confront a moment of truth. Anna and Bates know a moment of happiness.
Episode 7 – February 19, 2012 (9:00 – 11:00 PM ET)
In the finale, the family gathers at Downton Abbey for Christmas.
Comments