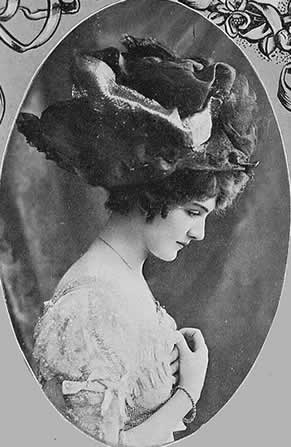 The Edwardian era was home to many fads and fashions which hearkened to bygone days, and the Merry Widow hat craze was no exception. The hat was just another part of the costume designed by Lucile for statuesque English theater star Lily Elsie, who was to play the main character, Hanna Glawari, in the 1907 English adaptation of Franz Lehár's operetta, Die lustige Witwe. The play was an immediate sensation, and its wonderful, frothy signature tune, the Merry Widow Waltz, became the craze of the Season. However, it was the hat worn by Elsie, that black, wide-brimmed, hat covered with filmy chiffon and festooned with piles of feathers, became the look for fashionable women over the next three years.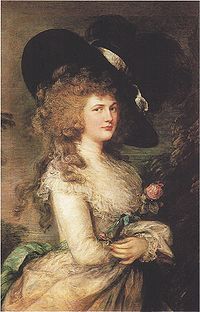 The hat, reaching such widths as eighteen inches, and topped with all kinds of trimmings (even whole stuffed birds!), was a direct descendant of the "Gainsborough" hat worn by the Duchess of Devonshire in that artist's portrait of the famed Georgian beauty. It's resurgence was quite timely, as the silhouette of the Edwardian lady moved away from the languid, S-curve of the early 1900s to the streamlined, athletic look of the late 18th century/early 19th century. Predictably, the increasing fashion for this hat resulted in endless jokes in popular magazines like Punch, whose issues frequently poked fun at the difficulties one could get into when wearing a Merry Widow hat or being near a lady wearing one. In New York, the Merry Widow craze extended to not only the hats, but corsets, dogs, cigars, chocolates, perfumes, scallops, liqueurs, et cetera, and early American film companies rushed to produce snappy one-reelers based around "merry widows" in Merry Widow hats to cash in on the hat and the operetta's popularity.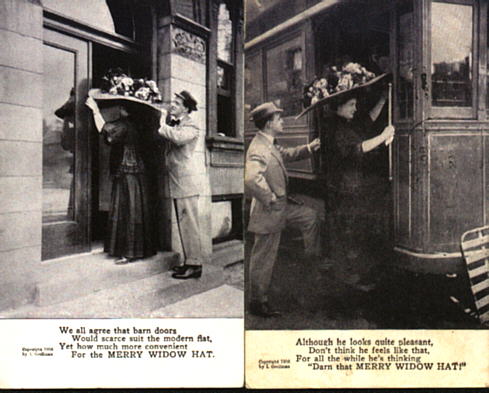 The Merry Widow retained its popularity until the eve of World War One, though it vied for supremacy with the smaller toques and turbans made popular by Paul Poiret. Surprisingly, the operetta and the waltz composed for it remain quite popular, with revivals occurring quite frequently. As for Franz Lehár, this one operetta made him a multimillionaire, and his career was never the same.
Further Reading:
Accessories of Dress: An Illustrated Encyclopedia by Katherine Morris Lester, Bess Viola Oerke & Helen Westermann
Hats: a history of fashion in Headwear by Hilda Amphlett
The "it" girls: Lucy, Lady Duff Gordon, the couturière "Lucile", and Elinor Glyn by Meredith Etherington-Smith & Jeremy Pilcher
Comments