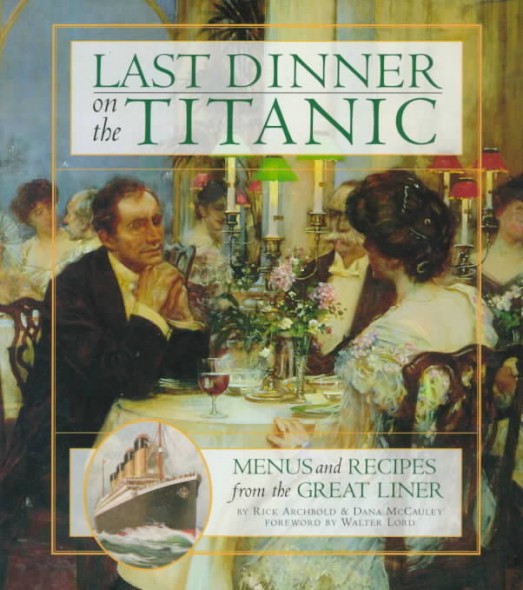 On the Memorial Wall at Titanic: The Artifact Exhibition at Luxor, next to a list of passenger names is a quote from Jack Foster that reads, "We are all passengers on the Titanic." The Belfast philosopher understood that The Ship was a small representation of the world; both in its time almost 100 years ago, as well as today. This Thanksgiving, gather with family and friends around a historic meal and remember the human thread that connects everyone. Whether young or old, rich or poor, everyone is grateful for their experience in this world.
Add some flare to your traditional menu and surprise guests with cuisine of the highest standards enjoyed by Titanic passengers in 1912. To fully recreate the lavish Titanic experience, see below for authentic recipes from the book Last Dinner on the Titanic: Menus and Recipes from the Great Liner.
Third Class: Vegetable Soup
2 tbsp butter
1 finely chopped onion
1 cup each sliced celery and carrot
1 potato, peeled and cubed
5 gloves garlic, minced
1 tsp each dried oregano and thyme
1 bay leaf
6 cups chicken or vegetable stock
2 cups white kidney beans, drained
1 cup corn kernels
1 cup asparagus tips
2 cups shredded Swiss chard (or spinach)
Salt & pepper
In large pot, melt butter over medium heat. Stir in onion, celery, carrot, potato, garlic, oregano, thyme, and bay leaf. Cover and cook, stirring often, for 10 minutes or until onion is translucent.
Stir in stock and bring to a boil. Reduce heat to medium and simmer for 15 to 20 minutes or until vegetables are almost tender.
Meanwhile, drain and rinse beans. Stir beans, corn, and asparagus into vegetable mixture. Cook for 5 min­utes or until asparagus is bright green and tender. Stir in Swiss chard (or spinach) and season to taste with salt and pepper. Makes 6 servings.
Third Class: Currant Buns
¼ cup lukewarm water
½ cup granulated sugar
1 pkg active dry yeast (1 tbsp)
3 ½ cups all-purpose flour
½ tsp salt
¾ cup warm milk
¼ cup butter, melted
2 eggs
½ cup currants (or raisins, chopped dates, or other dried fruit)
2 tbsp icing (powdered or Confectioners') sugar
1 tbsp water
In a small bowl or measuring cup, combine warm water and 1 tbsp of the granulated sugar; sprinkle yeast over top. Let stand for 10 minutes or until frothy.
Meanwhile, in large bowl, blend together remaining sugar, flour, and salt. In small bowl, whisk together milk, butter, and eggs. Stir in yeast mixture until combined.
Make well in dry ingredients; using wooden spoon, stir in yeast mixture until soft dough forms. Turn out onto lightly floured board. Knead for 8 minutes or until dough is smooth and elastic.
Transfer dough to large, greased bowl, turning to coat. Cover with plastic wrap and let rest in a warm place for 1 hour or until doubled in bulk. Punch down; turn onto floured surface; kneed in currants (or substitute). Shape into a 12-inch long log. Cut dough into 12 equal pieces.
Roll pieces of dough into smooth, seamless balls. Place buns on greased baking sheet leaving about 2 inches between each bun. Cover loosely and let rest for 30 minutes.
Bake in 400ºF oven for 15 minutes or until golden brown. Stir together icing sugar and water; brush over warm buns; let cool on rack. Makes 12 buns.
Second Class: Roast Turkey with Savory Cranberry Sauce
One 10 pound turkey
2 tablespoons butter, softened
1 teaspoon crumbled sage leaves
½ teaspoon each of salt and pepper
Stuffing
2 tablespoons butter
2 onions chopped
1 cup finely chopped celery
1 teaspoon each crumbled sage, thyme, and marjoram leaves
¾ teaspoon each salt and pepper
½ cup sherry
10 cups cubed bread, lightly toasted
½ cup chopped fresh parsley
¼ cup chicken stock
Gravy
3 cups chicken stock
1 onion, chopped
1 bay leaf
2 tablespoons all-purpose flour
Salt and pepper
To prepare turkey and stuffing:
In skillet, melt butter over medium heat. Stir in onions, celery, sage, thyme, marjoram, salt and pepper; cook, stirring occasionally, for 10 minutes or until browned. Stir in sherry; bring to boil. Boil for 5 minutes or until liquid is almost completely evaporated. Cool slightly. Gently stir in bread and parsley; drizzle over chicken stock, stirring to combine. Reserve.
Remove giblets and neck from the turkey cavity; reserve for gravy. Rinse turkey inside and out with running water. Pat dry. Stir together butter, sage, salt and pepper; rub over turkey, inside and out. Loosely pack stuffing into neck and body cavities, fold over and skewer neck flap closed over stuffing. Tie legs together. Bend wing tips underneath bird.
Place turkey, breast side up, on rack in roasting pan. Tent with foil and roast in 325 °F oven for about 1 ½ hours, basting with pan juices every 30 minutes. Remove foil and continue to roast for 1 ¾ hours, basting every half hour, or until instant-read meat thermometer inserted into thickest part of thiegh reads 185 °F. Let rest for 2 minutes before carving.
To prepare gravy:
Meanwhile, in saucepan, bring chicken stock, turkey neck, giblets, onion and bay leaf to boil, reduce heat and simmer, covered, for 1 hour; strain, reserving liquid. While cooked turkey rests, skim excess fat from roasting pan. Set pan over high heat; whisk in flour until well combined. Gradually whisk in reserved giblet stock. Bring to boil and cook, stirring constantly, for 2 minutes or until thickened. Season to taste with salt and pepper. Strain and serve alongside turkey.
First Class: Asparagus Salad with Champagne-Saffron Vinaigrette
½ lb asparagus
¼ tsp saffron threads
1 ½ tbsp champagne vinegar or white wine vinegar
½ tsp Dijon mustard
Pinch granulated sugar
3 tbsp extra virgin olive oil
Salt & pepper
½ sweet red or yellow pepper, finely diced
Lettuce
Holding asparagus halfway up stalk, snap off woody ends at natural breaking point and discard. In wide, deep skillet or large pot of boiling salted water, cook asparagus for 3 to 5 minutes or until tender but not limp. Drain and run under cold water until completely cooled; drain well.
Meanwhile, in large bowl, stir saffron into 1 tsp boiling water; let stand for 2 minutes or until softened. Stir in champagne vinegar, mustard and sugar. Whisking, drizzle in olive oil. Season with salt and pepper to taste. Add asparagus and diced pepper; toss to coat. Arrange on lettuce-lined serving platter. Makes 6 serv­ings.
— Courtesy of Luxor's Titanic exhibition
Comments