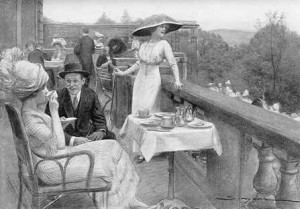 No matter the temperature, our sturdy Edwardians remained buttoned and corseted, which, since weather has largely remained the same in all corners of the globe, made for very uncomfortable times. Let's explore how people at the turn-of-the-century kept cool amidst sweltering summer heat.
The Menorah: a Monthly Magazine for the Jewish Home, v29 (1900)
The problem of problems for the summer is. How to keep cool? Much depends on what we eat and drink, but more on what we wear. Strange there should be any doubt what the latter is, when the proofs of WHAT NOT TO WEAR are so much in evidence on a hot day. See that man in linen shirt and collar! Tiring of the effort to keep his neck dry by mopping, he inserts his handkerchief between skin and collar to save what is left of the stiffness in the latter. Compare with the man in shirt and collar of wool (negligee). The pitying smile on the face of the latter as he glances at the victim of linen tells the story in a nutshell.

Think this over a minute. If contact with linen causes so much distress to the neck, how are we to measure the mischief done where the entire body is covered with it?

Perspiration as it first leaves the pores is vapor, and as wool has a strong affinity for vapor it absorbs it as fast as it emerges from the pores. But wool has also a repulsion for water, so that the vapor taken up by it is not allowed to condense in the material but is passed through to the outside and evaporated.

What follows? That to keep cool in summer your underwear MUST BE WOOLEN. It is, of course, essential that the wool be of absolute purity. It is also necessary that the texture be of such weave and fineness as will give the maximum of lightness and porosity. These three requisites will be found combined to perfection in the aptly-styled "gauze weight" of the Dr. Jaeger System. In an undersuit of this extremely light all-wool Jaeger fabric you can defy Old Sol, and at the same time snap your fingers at sudden falls of temperature. Like a gull on the ocean, you can then enjoy life, whether borne on the top of a '-hot wave" or plunged without warning down the mercurial incline—secure in either case against prostration or chill.
May's Anatomy, Physiology, and Hygiene (1899)
How to Keep Cool in Summer.—In summer we should eat less meat and less food than in winter. Usually our appetite is not so good in summer as it is in winter, and naturally, therefore, we take less food, and we should wear light clothing. Everything we do during the warm parts of the summer days we should do slowly and should not hurry. We should not walk much in the sun without being shaded.

How the Body is Kept Cool in Summer.—It would seem difficult to prevent the body from being overheated in summer when the air around us is so warm; and you might wonder, too, why it is that the blood of a locomotive engineer, or of a cook, who is in front of a hot fire all day long, is no warmer than that of persons who can keep cool. There are two ways in which the bodily heat is prevented from rising above 98 degrees when persons must be near furnaces and fires or are otherwise exposed to the heat.

Both methods depend upon the fact that whenever moisture or water leaves any surface it makes that surface cold; that is, it takes some of the heat of that surface with it. In India, the drinking-water is cooled by placing it in porous clay vessels which allow a little of the water to soak through, after which it passes off into the air and thus makes the rest of the water cool. If you wet your hand and then hold it in the air, it feels cold, because the water in passing into the air takes some of the heat of the hand with it.

In this way our blood does not get any warmer in summer than in winter. For in summer more moisture leaves the body than in winter. Moisture leaves the body in two ways: By the lungs and by the skin. We breathe more rapidly in summer than in winter, especially if it is very warm, and in this way, more moisture is given off to the air from the blood passing through the lungs. Then again, the expired air contains more moisture in summer.

Perspiration.—The moisture which passes off by the skin is called perspiration. This is taking place constantly through the pores, but in summer so much passes off that it collects in drops and is then called visible or sensible perspiration.

Ice-water in Summer.—There is no objection to ice-water in summer if you do not drink too much, and if you take but a little at a time. Some people get into the habit of drinking ice-water constantly. This is very unhealthy and will make them suffer. But if it be remembered to drink it slowly and only a little at a time, it will not usually do any harm.

Sunstroke.—When a person has been in the sun a long time, the heat of the blood may become so great, or the effect of this heat upon the nerves so serious, that it makes him dangerously sick; this is called sunstroke. It is a very dangerous condition. If you have to walk much in the sun, you should stop and go into the shade and rest as soon as you feel the least faint or dizzy.
From The Dominion: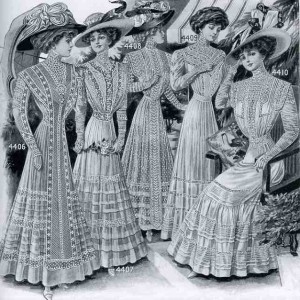 How to Keep Cool on Hot Summer Days

THE use of a vacuum bottle as a Winter need, or as a requisite for the sick rooms, needs little argument in its favor, but it may not be generally recognized that the same bottle can be used as a means of keeping cool on hot Summer days. If a water bottle filled with hot water comes to the aid of the aged and cool-blooded individuals during the Winter, why not fill the same bottle with cold ice water in Summer and use it to cool overheated blood?

A national advertiser, in advertising his makes of water bottles, offers this suggestion:

"Here is a use for a water bottle many people don't think of, because they usually think of it as a hot water bottle only. Fill it with cold water and use it to help keep cool.

"Hold it on the back of your neck when you are over-heated. Rest your neck upon it when the night is uncomfortably hot.

"Heat and discomfort quickly pass, as it cools both brain and body. Instead of a restless, wakeful night, you quickly sink into profound, refreshing sleep.

"Don't forget your water bottle when you don't need it to warm you. Use it as a cold water bottle and enjoy a new Summer luxury."
From the New York Times:
Now that the torridity of midsummer is upon us, let me recommend to your readers a very simple, harmless, and effective device for getting and keep cool on warm nights. An ordinary rubber water bag half filled with cold water placed as a pillow under the head on retiring in about five minutes reduces the temperature of the whole body sufficiently to insure several hours of comparative relief and comfort.

During the sultry weeks in Paris dwellings of that city of light and brightness are kept cooler than those of America. Carpets are replaced by matting that can be sprinkled. Windows are closed at sunrise to keep in the cool night air until sundown. The courtyard is frequently watered to prevent its becoming heated and to keep up evaporation. Keep a large block of ice on a grooved marble table, the cool waste water draining through a concealed pipe in the standard of the table and connected with a refrigerator below, seeping over salad leaves and covered jars. By this device a uniform temperature is maintained.

The municipality aids the citizen by having the streets thoroughly watered and the trottoir (sidewalk) washed down long before Parisians are astir. Along the boulevards are large trees that turn the heat aside. There are little cafes with awnings drawn over the pavements, chairs around small tables, and for three half pence the thirsty man receives a glass of water from the garçon. French summer drinks are cooling rather than inebriating. Domestic wines, orgeat, raspberry vinegar, are dispensed in long glasses produced from the refrigerator.