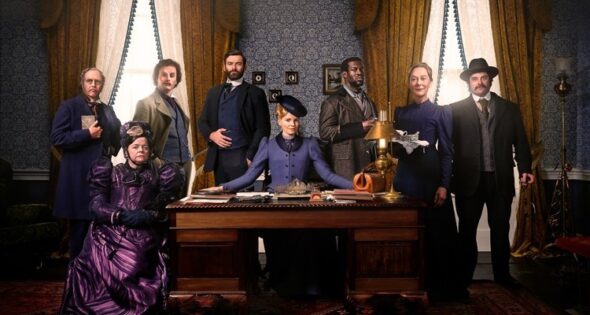 Premiering on Sunday, January 17 at 8/7c
When headstrong Eliza Scarlet is left penniless after the death of her father, she has two choices for financial security: marriage or her father's private detective agency. But no matter how well she knows the tricks of his trade, the trade itself is deemed entirely inappropriate for a genteel lady of the 1880s. Enter "The Duke," Scotland Yard's Detective Inspector William Wellington, a notorious drinker, gambler, womanizer…and a partner in running the agency and solving crime, all with a dash of will-they-won't they energy, wit, and moxie!
Kate Phillips (Peaky Blinders) stars in a six-part mystery as the headstrong, first-ever female detective in Victorian London, who won't let any naysayers stop her from keeping her father's business running. Stuart Martin (Jamestown) plays her childhood friend, professional colleague, and potential love interest, Scotland Yard Detective Inspector William Wellington, a.k.a., The Duke.
The cast includes Andrew Gower (Poldark, Outlander), Kevin Doyle (Downton Abbey), Ansu Kabia (World on Fire, The Long Song), and Cathy Belton (Philomena).
Trailer
Masterpiece: Miss Scarlet and The Duke
Comments