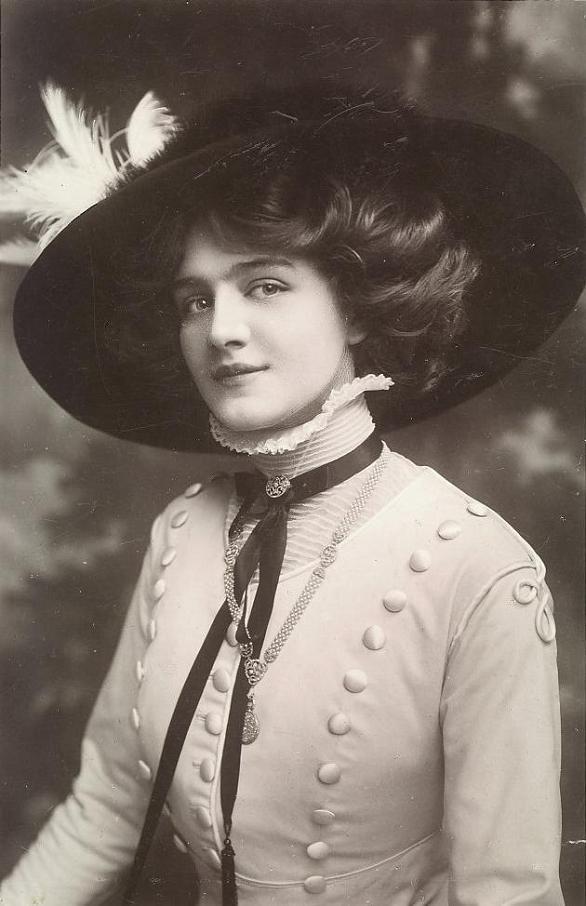 With her button nose, piles of heavy, lustrous brunette locks, and doe eyes, Lily Elsie walked across the stage as a child star and into the hearts of Victorian and Edwardian audiences, where she remained for the majority of her life. She was born Elsie Hodder to an unmarried seamstress in West Riding, Yorkshire in 1886, and made her debut in music hall and variety entertainments as "Little Elsie" as a child impersonator in the mid 1890s. Her voice was thin but sweet, and her stage presence undeniable, and yet, despite her immense success and talent, she remained hopelessly shy.
Little Elsie later acted in Salford theatres in pantomimes and concerts, and scored the title role in Little Red Riding Hood at ten, which remained onstage for six weeks, and met with success on tour for an additional six weeks. Elsie made her London debut in 1898, and toured in the music comedies which were to mark the history of Edwardian theatre. She changed her name to "Lily Elsie" sometime around 1900, and promptly joined George Edwardes' company at Daly's Theatre in London as a chorus girl. She caused a stir in 1903, in the role of "Princess Soo-Soo" in the hit musical A Chinese Honeymoon, when she was made up to appear Chinese, for until then, white actors portraying characters of color invariably played them with only an "ethnic" costume to denote their non-European ancestry. She was briefly fired by Edwards after he caught her pulling a prank while on stage, but he quickly rehired her in smaller parts, topping off her career between the years 1903 and 1906 in fourteen shows.
Her big break came by accident. Edwardes wanted to put on The Merry Widow and took Elsie with him to Berlin to see the original German version, Die Lustige Witwe. He convinced her to take the part–she demurred, thinking her voice too slight–and recruited Lucile to design her costumes and coach her in movement and grace. The production, with English lyrics by Adrian Ross, opened in June 1907 at Daly's Theatre and ran for an astonishing 778 performances. Elsie's celebrity was sealed when the operetta went on tour in 1908, and she became the most photographed actress of the Edwardian era, also becoming intrinsically linked to the wide-brimmed Merry Widow hat designed by Lucile.
According to the Atlanta Constitution newspaper in America, writing in 1915:
Perhaps her face is nearer to that of the Venus de Milo in profile than to any other famed beauty. There are no angles to be found about her any place…. If she came to America, she would undoubtedly be called the most beautiful woman In America. Nature never made a more brilliant success in the beauty business than she did with Lily Elsie. It was mostly from the nobility that her suitors came. Everyone agrees that Lily Elsie has the most kissable mouth in all England… she possesses the Cupid's bow outline with the ends curving upward delicately, all ready for smiles…. Strangely enough, the women of the land were among her most devoted admirers."
After her astounding success with The Merry Widow, Elsie performed in sixteen more musical comedies, including The Dollar Princess in 1909; as "Franzi" in A Waltz Dream; and as "Angèle" in The Count of Luxembourg, both in 1911. She left The Count of Luxembourg to marry Major John Ian Bullough, who was the son of a wealthy textile manufacturer. Bullough wanted her to retire from the stage, which the shy Elsie did, and she only returned to the stage for charity performances during the Great War. In 1920, Elsie and Bullough moved to Gloucestershire and she greatly enjoyed country society, but her marriage had never been happy, and she returned to touring in the late 1920s before retiring for good in 1929 after playing against Ivor Novello in his The Truth Game. She and Bullough's painful marriage ended in 1930, and what could have been Elsie's golden years were filled with illness and hypochondria as she drifted through nursing homes and Swiss sanatoriums. After brain surgery, which was said to have improved her health a little, Elsie spent her remaining years in St. Andrew's Hospital in London, where she died at age 76 in 1962.
Read more about Lily Elsie's life in Anything But Merry! The life and times of Lily Elsie by David Slattery-Christy
Comments