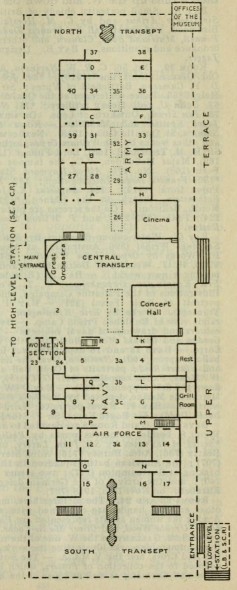 The Imperial War Museum was founded in 1917, and opened to the public within the great nave of the Crystal Palace, 9 June 1920. The museum was intended to record the "profoundly impressive" British effort and unity, and to also emphasize the "fact that in modern warfare success in the field is no longer a merely military achievement, but is the result of the devoted and heroic work of millions of men and women co-operating as parts of one vast living machine." The collection was divided into four sections–Navy, Army, Women's War Work, and the production of munitions. Within the museum itself, the southern nave was devoted to the Navy, Air Force, Women's Work, and the Army Medical Service, and the northern nave was devoted to the Army Section, and also included rooms dedicated to Rooms 39 and 40 and Room 8. The most prized possession of the museum were the works of art, which were distributed throughout the museum in connection with the branches they illustrated.
During the opening ceremony June 9, 1920, Sir Alfred Mond, the MP and First Commissioner of Works, who spearheaded the foundation of the Imperial War Museum, addressed King George V: "'it was hoped to make the museum so complete that every one who took part in the war, however obscurely, would find therein an example or illustration of the sacrifice he or she made' and that the museum 'was not a monument of military glory, but a record of toil and sacrifice'". By late 1921, more than two million people visited the museum, which featured the contributions of the Commonwealth to winning the war. Today the Imperial War Museum has expanded to five branches, which detail British and Commonwealth contributions from WWI to present-day conflicts. Far from perpetuating "an undesirable war spirit" (as some MP's feared when debating the Imperial War Museum Act 1920), the museums have chronicled the progress of war, which, while devastating and destructive, is just as much a part of history as the building of monuments or the archiving of important papers.
Has anyone visited the Imperial War Museum? What was your experience, and what were your favorite sections?
Further Reading:
Art and the Great War (1919) by Albert Eugene Gallatin
Guide to Imperial War Museum – London and its Environs (1922)
Imperial War Museum – Official Website
History of the Crystal Palace – Photos of the IWM
Comments