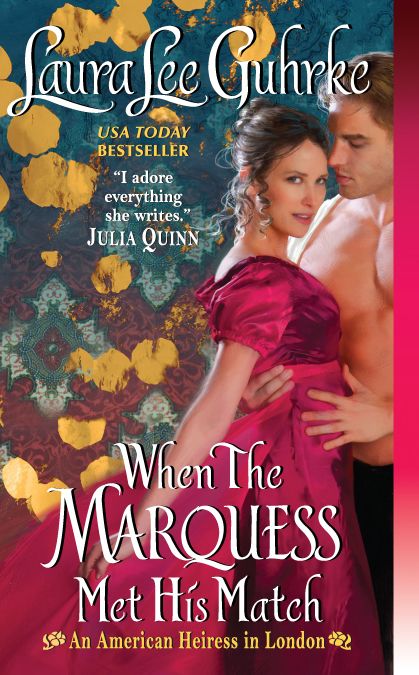 AUTHOR NAME: Laura Lee Guhrke
BOOK TITLE: When the Marquess Met His Match: An American Heiress in London
DESCRIPTION: The series, An American Heiress in London, features the adventures and romances of various American heiresses braving their way through love and marriage, British-style. The books are set in the late-Victorian England, the time when the transatlantic marriage was at its peak, but this series isn't about four innocent Yankee misses plunked down in London for the season. Each book puts a unique slant on the dynamics of the transatlantic marriage.
In When the Marquess Met His Match, the first book of the serious, you'll meet Lady Belinda Featherstone, who discovered first-hand how heartbreaking the game of love and matrimony could be after a reprobate British earl married her for her money. Now a respectable widow, Belinda has become England's most successful matchmaker, guiding young American heiresses through the hazards of the London season and helping them to find husbands worthy of them. When the charming Marquess of Trubridge comes asking for her help in finding an American wife, she sums him up as nothing but a fortune-hunting scoundrel, and she has no intention of allowing him to charm his way into any American girl's heart, including her own.
BACKGROUND OF BOOK/WRITING: When the Marquess Met His Match is my nineteenth published historical romance, and one of many I've set at in the late nineteenth century. I love this time in British history because so much was in flux. Technology,  medical practices, and social mores were all changing at a rapid clip. The old landed aristocracy economic system was breaking down, making way for the nouveau-riche heiress, the self-made girl, and even the divorcee. For me, the late-Victorian and Edwardian eras are a treasure trove of story ideas, and I hope those ideas never stop coming. Happy reading, everyone!
BUY FROM: Powell's | Indiebound | B & N | Amazon
Visit Laura online at lauraleeguhrke.com or like her page on Facebook!
Comments